KnowBe4 has been recognized as a leader for security awareness training
KnowBe4, the provider of the world's largest security awareness training and simulated phishing platform, today announced that TrustRadius has recognized KnowBe4 with a 2023 Top Rated Award in the Security Awareness Training category.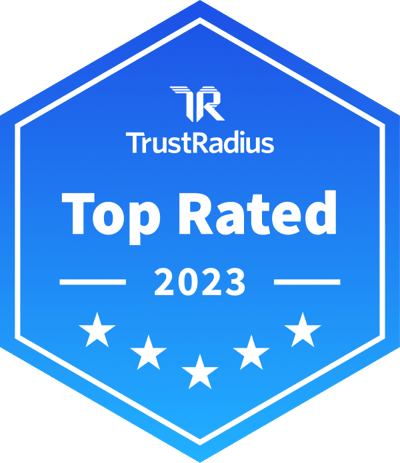 With a trScore of 9 out of 10 and over 800 verified reviews, KnowBe4 is recognized by the TrustRadius community as a valuable player in the Security Awareness Training software category. Reviewers on TrustRadius gave high marks for KnowBe4's overall ease of use, the variety of training and phishing content available and great customer support.
"It is an honor to receive a Top Rated Award from TrustRadius for the third consecutive year," said Stu Sjouwerman, CEO, KnowBe4. "At KnowBe4, we place a high value on customer satisfaction and feedback, which is why we are dedicated to creating user-friendly tools that help IT/security admins around the world manage the ongoing problem of social engineering to ultimately strengthen their security culture. We consistently innovate our platform to meet the evolving needs of our customers while always keeping them top of mind."
Since 2016, the TrustRadius Top Rated Awards have become the B2B's industry standard for unbiased recognition of technology products. Based entirely on customer feedback, they have never been influenced by analyst opinion or status as a TrustRadius customer. Here is a detailed criteria breakdown of the methodology and scoring that TrustRadius uses to determine TopRated winners.
Hear from verified users on how much they value the KnowBe4 platform:
We have implemented the Platinum version of KnowBe4 throughout the organization. We also are a managed service provider for local units and have rolled out security awareness training and active phishing campaigns for all of our local unit partners. The end-user is the weakest link in our security posture. We have been able to drop our percentage of link "clickers" by over 50% by utilizing the active phishing campaigns from KnowBe4. In the past we had users click on phishing email links that led to malware being installed on their PCs. The rate of infection has gone down dramatically since deploying KnowBe4.
-Technical Infrastructure Manager
Campaigns are easy to track and put together, and you can opt to have users give feedback on campaigns which is helpful for considering what will be of most value to the users and the organization. KnowBe4 Security Awareness Training customer service is also good and we have been happy with the response on the rare occasion that we have an issue.
-Analyst in Information Technology
Looking to share your own feedback on TrustRadius? Please leave a review here.
About KnowBe4
KnowBe4, the provider of the world's largest security awareness training and simulated phishing platform, is used by more than 56,000 organizations around the globe. Founded by IT and data security specialist Stu Sjouwerman, KnowBe4 helps organizations address the human element of security by raising awareness about ransomware, CEO fraud and other social engineering tactics through a new-school approach to awareness training on security. Kevin Mitnick, an internationally recognized cybersecurity specialist and KnowBe4's Chief Hacking Officer, helped design the KnowBe4 training based on his well-documented social engineering tactics. Tens of thousands of organizations rely on KnowBe4 to mobilize their end users as their last line of defense.