KnowBe4 has been recognized as a leader for security awareness training
KnowBe4, the provider of the world's largest security awareness training and simulated phishing platform, today announced that TrustRadius has recognized KnowBe4 with a 2022 Top Rated Award in the Security Awareness Training category.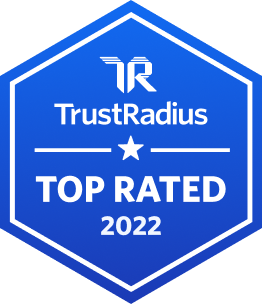 With a trScore of 9.2 out of 10 and over 600 verified reviews, KnowBe4 is recognized by the TrustRadius community as a valuable player in the Security Awareness Training software category.
"I am elated to see that so many of our customers value our security awareness training and simulated phishing platform enough to leave such positive reviews," said Stu Sjouwerman, CEO, KnowBe4. "We thrive on receiving feedback directly from our customers, which is why user friendliness and customer satisfaction consistently remain top of mind for KnowBe4. This recognition from TrustRadius represents the continued evolution and innovation of our platform, all while keeping a strong customer focus."
Since 2016, the TrustRadius Top Rated Awards have become the B2B's industry standard for unbiased recognition of technology products. Based entirely on customer feedback, they have never been influenced by analyst opinion or status as a TrustRadius customer. Here is a detailed criteria breakdown of the methodology and scoring that TrustRadius uses to determine TopRated winners.
Hear from

verified users on how much they value the KnowBe4 platform:
Being used across the organization to assist in making users aware of security threats. It is used to send simulated emails to users to help them learn what to look for. If they Phish Alert it, they get congratulations pop up. Also using the videos for security training. Shows real-life examples that people will find themselves in and makes it fun. Great for all levels of users. Provides knowledge that people can use both at work and at home. Security training is usually a very boring topic and people tend to zone out. The videos KnowBe4 has created bring humor and real-world examples in a way that is new. It isn't death by PowerPoint to train users. The admin console lets you see users' progress and what are risk is.
-Technician in IT
KnowBe4 has been instrumental in helping us reach, train, validate training and ensure that our users, vendors, etc. are key partners in the reduction of our risk associated with phishing. We use both phishing and training campaigns to train and measure our progress. KnowBe4 was very easy to implement with our onboarding team that helped guide us through the entire process including reporting and getting buy-in. We are very pleased and plan to expand usage at every opportunity.
-Professional in IT
Looking to share your own feedback on TrustRadius? Please leave a review here.
About KnowBe4
KnowBe4, the provider of the world's largest security awareness training and simulated phishing platform, is used by more than 50,000 organizations around the globe. Founded by IT and data security specialist Stu Sjouwerman, KnowBe4 helps organizations address the human element of security by raising awareness about ransomware, CEO fraud and other social engineering tactics through a new-school approach to awareness training on security. Kevin Mitnick, an internationally recognized cybersecurity specialist and KnowBe4's Chief Hacking Officer, helped design the KnowBe4 training based on his well-documented social engineering tactics. Tens of thousands of organizations rely on KnowBe4 to mobilize their end users as the last line of defense.
About TrustRadius
TrustRadius is the most trusted research and review platform for business leaders to find and select the right software for their needs. Decision-makers across industries rely on verified, peer-based guidance and research from TrustRadius. Vendors engage and convert high-intent buyers by telling their unique stories through rich reviews. Over 12 million visitors a year create and engage with high-quality review content and data on Trustradius.com. Headquartered in Austin, TX, TrustRadius was founded by successful entrepreneurs and is backed by Mayfield Fund, LiveOak Venture Partners, and Next Coast Ventures.