KnowBe4 recognized for its corporate social responsibility program for the third consecutive year
KnowBe4, the provider of the world's largest security awareness training and simulated phishing platform, today announced that TrustRadius, the most trusted research and review platform, has recognized KnowBe4 with a 2022 Tech Cares Award. This third-annual award celebrates companies that have gone above and beyond to provide impactful corporate social responsibility (CSR) programs for their employees and surrounding communities.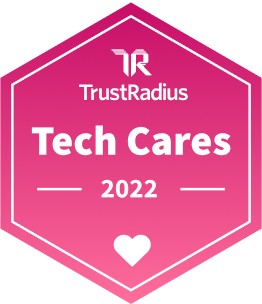 "We work tirelessly to foster a positive workplace culture that supports a diverse group of remote and in-office employees at TrustRadius. Tech leaders throughout the industry are embracing similar corporate social responsibility initiatives, and we're excited to give them the recognition they deserve with a Tech Cares Award," said TrustRadius Founder and CEO Vinay Bhagat. "We believe corporate social responsibility will continue to become more important each year for employees, customers, and stakeholders."
To be accepted for the TrustRadius Tech Cares Award, each nominated organization had to be a B2B technology company that demonstrated impactful CSR initiatives in one of the following categories; volunteerism, diversity, equity, and inclusion programs, charitable donations and fundraising, support for in-office and remote employees, or environmental sustainability initiatives. Everyone was welcome to nominate an organization for this award, including those who work for or with the company. All nominations were thoroughly vetted by the TrustRadius research team, and supporting proof was provided by the nominated.
"From the beginning, KnowBe4 has always prioritized corporate social responsibility," said Stu Sjouwerman, CEO, KnowBe4. "Through our numerous community-driven initiatives, such as volunteerism, charitable donations, environmental clean-ups and more, our organization is dedicated to providing support through significant efforts aimed at improving our planet. With the health and wellness of our employees in mind, we encourage a healthy work/life balance and provide a variety of benefits. We also maintain a transparent and fun work environment through our daily Zoom briefings, internal challenges, contests and more. Our dedication to corporate social responsibility is reflected in KnowBe4's ethical, inclusive and environmentally-focused organizational culture."
About KnowBe4
KnowBe4, the provider of the world's largest security awareness training and simulated phishing platform, is used by more than 52,000 organizations around the globe. Founded by IT and data security specialist Stu Sjouwerman, KnowBe4 helps organizations address the human element of security by raising awareness about ransomware, CEO fraud and other social engineering tactics through a new-school approach to awareness training on security. Kevin Mitnick, an internationally recognized cybersecurity specialist and KnowBe4's Chief Hacking Officer, helped design the KnowBe4 training based on his well-documented social engineering tactics. Tens of thousands of organizations rely on KnowBe4 to mobilize their end users as their last line of defense.
About TrustRadius
TrustRadius is the most trusted research and review platform for business leaders to find and select the right software for their needs. Decision-makers across industries rely on verified, peer-based guidance and research from TrustRadius. Vendors engage and convert high-intent buyers by telling their unique story through rich reviews. Over 12 million visitors a year create and engage with high-quality review content and data on Trustradius.com. Headquartered in Austin, TX, TrustRadius was founded by successful entrepreneurs and is backed by Mayfield Fund, LiveOak Venture Partners, and Next Coast Ventures.