KnowBe4 recognized for fun, productive and upbeat work environment
KnowBe4, the provider of the world's largest security awareness training and simulated phishing platform, today announced it has earned the number one spot for the 2022 Top Workplaces USA awards in the 1000-2500 employees category, issued by Energage, a purpose-driven organization that develops solutions to build and brand Top Workplaces. The Top Workplaces program has a 15-year history of surveying more than 20 million employees and recognizing the top organizations across 60 markets for regional Top Workplaces awards.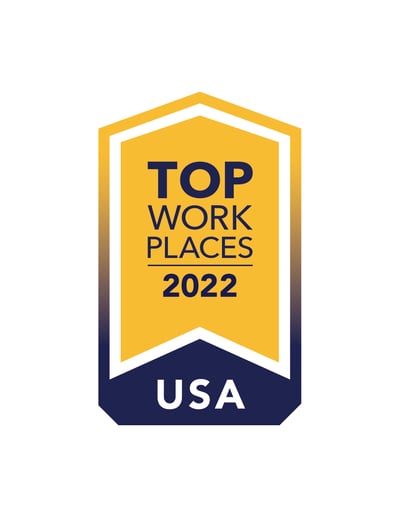 Top Workplaces USA celebrates organizations with 150 or more employees that have built great cultures. Over 42,000 organizations were invited to participate in the Top Workplaces USA survey. Winners of the Top Workplaces USA list are chosen based solely on employee feedback gathered through an employee engagement survey, issued by Energage.
Results are calculated by comparing the survey's research-based statements, including 15 Culture Drivers that are proven to predict high performance against industry benchmarks.
"We are ecstatic to earn the top spot on Energage's 2022 Top Workplaces USA list," said Stu Sjouwerman, CEO, KnowBe4. "KnowBe4 is a great place to work because fun is part of our valued company mission. In fact, KnowBe4's three rules are 1. Do it right the first time. 2. Do it fast. 3. Have fun while you do it. Our success is largely due to the work environment we have created where employees are actually happy to come to work and we will continue to focus on our company culture going forward."
"Companies need to authentically represent their brand to job-seekers," said Eric Rubino, Energage CEO. "The employee experience needs to be on the mission-critical list. Leaders who embrace a people-first culture will benefit greatly. By giving employees a voice and showcasing your authentic culture through employer branding, organizations can attract those job seekers who complement their culture. Culture drives performance."
About KnowBe4
KnowBe4, the provider of the world's largest security awareness training and simulated phishing platform, is used by more than 44,000 organizations around the globe. Founded by IT and data security specialist Stu Sjouwerman, KnowBe4 helps organizations address the human element of security by raising awareness about ransomware, CEO fraud and other social engineering tactics through a new-school approach to awareness training on security. Kevin Mitnick, an internationally recognized cybersecurity specialist and KnowBe4's Chief Hacking Officer, helped design the KnowBe4 training based on his well-documented social engineering tactics. Tens of thousands of organizations rely on KnowBe4 to mobilize their end users as the last line of defense.
About Energage
Making the world a better place to work together.TM
Energage is a purpose-driven technology company that helps organizations build and brand Top Workplaces. Built on 14 years of culture research and the results from 23 million employees surveyed across more than 70,000 organizations, Energage delivers the most accurate competitive benchmark available. With access to a unique combination of patented analytic tools and expert guidance, Energage customers lead the competition with an engaged workforce and an opportunity to gain recognition for their people-first approach to culture. For more information or to nominate your organization, visit energage.com or topworkplaces.com.