Explosive growth in cyber threats like ransomware and CEO fraud that rely on manipulating employees rocket KnowBe4 into the Inc 500
(Tampa Bay, FL) August 17, 2016--No stranger to hypergrowth, KnowBe4's Founder and CEO Stu Sjouwerman marks his fifth startup a resounding success with its debut onto the prestigious Inc 500 list at spot #139. In 5 short years, KnowBe4 has become America's most popular integrated security awareness training and phishing platform, has seen explosive growth for 12 consecutive quarters and record numbers of new corporate accounts. This is Sjouwerman's (pronounced shower-man) 2nd time on the Inc 500 list, appearing with his prior company Sunbelt Software in 2001.
"We are very honored to be named to this list of fastest growing companies, and see it as an acknowledgement of our efforts to help our customers with an effective way to manage the ongoing problem of social engineering," said Sjouwerman. "Our training and simulated phishing platform have been well received by IT managers. Customers are telling us continually that it has created a greatly improved employee security culture with our new-school Kevin Mitnick security awareness training. They feel safer knowing they can better protect their networks against phishing and ransomware infections," added Sjouwerman."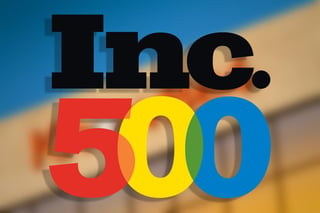 Inc. Magazine's list represents a unique look at the most successful companies within the American economy's most dynamic segment--its independent small businesses.The 2016 Inc. 5000, unveiled online at Inc.com and with the top 500 companies featured in the September issue of Inc. (available on newsstands August 23) is the most competitive crop in the list's history. The average company on the list achieved a respectable three-year growth of 433%. However, KnowBe4's growth was over 2,500% over the most recent three-year period. Sjouwerman said: "With Kevin Mitnick's subject matter expertise, we have a big advantage over anyone else out there. Kevin is the world's most famous hacker."
"The Inc. 5000 list stands out where it really counts," says Inc. President and Editor-In-Chief Eric Schurenberg. "It honors real achievement by a founder or a team of them. No one makes the Inc. 5000 without building something great – usually from scratch. That's one of the hardest things to do in business, as every company founder knows. But without it, free enterprise fails."
KnowBe4 has taken advantage of the burgeoning security market, helping businesses manage the ongoing problem of social engineering. Cybercrime has gone pro with cyber mafias furiously innovating and creating methods to exploit organizations through the use of social engineering.
Ransomware has doubled and scams like the Business Email Compromise (BEC)--also known as CEO fraud-- are costing the economy more than a billion dollars yearly according to the FBI, with a 1300 percent rise in losses since January 2015. KnowBe4's CEO doesn't see business slowing down anytime soon.
About Stu Sjouwerman and KnowBe4
Stu Sjouwerman (pronounced "shower-man") is the founder and CEO of KnowBe4, Inc., which hosts the world's most popular integrated Security Awareness Training and Simulated Phishing platform. A data security expert with more than 30 years in the IT industry, Sjouwerman was the co-founder of Inc. 500 company Sunbelt Software, a multiple award-winning, anti-malware software company that was acquired in 2010. Realizing that the human element of security was being seriously neglected, Sjouwerman decided to help organizations manage the problem of cybercrime social engineering tactics through new school security awareness training.Thousands of organizations, in a variety of industries, including highly-regulated fields, such as healthcare, finance, energy, government, and insurance have mobilized their end users as a first line of defense using KnowBe4. Sjouwerman is the author of four books, with his latest being "Cyberheist: The Biggest Financial Threat Facing American Businesses." For more information, visit www.knowbe4.com and follow @StuAllard on Twitter.
About Kevin Mitnick
Kevin Mitnick, 'the World's Most Famous Hacker', is an internationally recognized computer security expert with extensive experience in exposing the vulnerabilities of complex operating systems and telecom devices. He gained notoriety as a highly skilled hacker who penetrated some of the most resilient computer systems ever developed. Today, Mitnick is renowned as an information security consultant and keynote speaker and has authored four books, including The New York Times best seller Ghost in the Wires. His latest endeavor is a collaboration with KnowBe4, LLC as its Chief Hacking Officer.
About Inc. Media:
Founded in 1979 and acquired in 2005 by Mansueto Ventures, Inc. is the only major brand dedicated exclusively to owners and managers of growing private companies, with the aim to deliver real solutions for today's innovative company builders. Winner of the National Magazine Award for General Excellence in both 2014 and 2012. Total monthly audience reach for the brand has grown significantly from 2,000,000 in 2010 to over 15,000,000 today. For more information, visit www.inc.com.
Companies on the Inc. 500 are featured in Inc.'s September issue. They represent the top tier of the Inc. 5000, which can be found at http://www.inc.com/inc5000.