Sara Valtin makes 2022 CRN Channel Power 100 list and Kirsten Esposito and Meredith Cook make 2022 CRN Women of the Channel list
KnowBe4, the provider of the world's largest security awareness training and simulated phishing platform, today announced that CRN®, a brand of The Channel Company, has named Sara Valtin, VP of channel sales, KnowBe4 to its 2022 Power 100 list, a subset of influential executive leaders chosen from the annual CRN Women of the Channel list as well as Kirsten Esposito, VP of Global Partner Program Office, KnowBe4 and Meredith Cook, channel marketing director, KnowBe4 to its Women of the Channel list for 2022.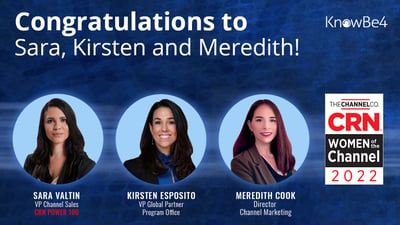 The Power 100 list honors some of the most powerful women of the channel, chosen by the CRN editorial team based on their contributions, expertise, and channel advocacy. This select group of distinguished female leaders from channel-focused IT vendors has shown incredible dedication and leadership — going above and beyond with unwavering channel commitment — inspiring their peers and driving the success of partners, customers, and the entire IT channel.
The Women of the Channel list honors the incredible accomplishments of female leaders in the IT channel. Those named on this annual list come from all corners of the IT channel — including vendors, distributors, and solution providers whose vision, expertise, and contributions make an impact on the industry every day.
By bringing innovative concepts, strategic business planning and comprehensive channel initiatives to life, these extraordinary women support partners and customers with exceptional leadership. CRN celebrates these women, who are so deserving of recognition, for their constant dedication to channel excellence.
"We are incredibly grateful and proud to have this group of talented women leading various parts of the Channel Sales, Partner Program Office and Channel Marketing areas of KnowBe4's business," said Tony Jennings, EVP of international and global channel sales, KnowBe4. "Sara, Kirsten and Meredith are influential leaders who have all made a positive impact on their teams and our organization overall. It is wonderful to see this public acknowledgement to recognize their accomplishments."
"We are proud to once again recognize the remarkable leaders on this year's Women of the Channel list. Their influence, confidence, and diligence continue to accelerate channel success significantly," said Blaine Raddon, CEO of The Channel Company. "Their accomplishments will inspire others, and we look forward to witnessing their future contributions to the channel."
CRN's 2022 Women of the Channel and Power 100 lists will be featured in the June issue of CRN Magazine and online at www.CRN.com/WOTC.
About KnowBe4
KnowBe4, the provider of the world's largest security awareness training and simulated phishing platform, is used by more than 47,000 organizations around the globe. Founded by IT and data security specialist Stu Sjouwerman, KnowBe4 helps organizations address the human element of security by raising awareness about ransomware, CEO fraud and other social engineering tactics through a new-school approach to awareness training on security. Kevin Mitnick, an internationally recognized cybersecurity specialist and KnowBe4's Chief Hacking Officer, helped design the KnowBe4 training based on his well-documented social engineering tactics. Tens of thousands of organizations rely on KnowBe4 to mobilize their end users as the last line of defense.
About The Channel Company
The Channel Company enables breakthrough IT channel performance with our dominant media, engaging events, expert consulting and education, and innovative marketing services and platforms. As the channel catalyst, we connect and empower technology suppliers, solution providers, and end-users. Backed by more than 30 years of unequaled channel experience, we draw from our deep knowledge to envision innovative new solutions for ever-evolving challenges in the technology marketplace. www.thechannelcompany.com
Follow The Channel Company: Twitter, LinkedIn, and Facebook.
© 2022. CRN is a registered trademark of The Channel Company, LLC. All rights reserved.