Most Loved Workplaces employees are happiest and most satisfied at work
KnowBe4, the provider of the world's largest security awareness training and simulated phishing platform, today announced it is recertified as a Most Loved Workplace® backed by the research and analysis of Best Practice Institute (BPI). Most Loved Workplace® validation provides the most comprehensive look at workplace sentiment for organizations today.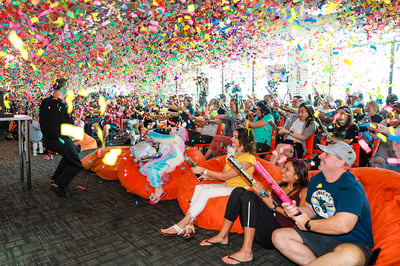 Most Loved Workplaces® certify companies where employees are the happiest and most satisfied at work. KnowBe4 became certified as a Most Loved Workplace based on its scores on the Love of Workplace Index™ which surveyed employees on various elements around employee satisfaction and sentiment including the level of respect, collaboration, support, and sense of belonging they feel inside the company.
"I started Most Loved Workplaces out of inspiration from my community of people who consciously place love for their employees at the center of their business model," said Louis Carter, the founder, and CEO of BPI and a social/organizational psychologist, thought leader, entrepreneur, and author. Carter's book, "In Great Company: How to Spark Peak Performance by Creating an Emotionally Connected Workplace," identifies the specific areas needed to become a highly respected, reputable organization where people love to work with each other – a Most Loved Workplace.
Backed by BPI, in its original research that created MLW criteria, Most Loved Workplaces surveyed more than 175 companies and more than 3,000 executives across the United States, the Middle East/Northern Africa, and Southeast Asia. They found that productivity rises as employee sentiment increases, with 94 percent of responders saying they did three to four times more work for a company they loved and 95 percent saying they stayed at companies they loved three to four times longer. Most Loved Workplaces certification is the most valid method to determine employee experience and recognize a great workplace.
"KnowBe4 is proud to cultivate a unique workplace culture for all of our employees," said Ani Banerjee, CHRO, KnowBe4. "We are committed to fostering a transparent, collaborative, inclusive and fun culture in our offices around the world and for our remote employees. KnowBe4 is dedicated to maintaining positive and productive values that are echoed throughout our entire organization in order for everyone to be supported and thrive in their roles. We appreciate our wonderful employees and are honored to once again be certified as a most loved workplace."
"At KnowBe4, we recognize the value of building a diverse team that draws on different backgrounds and experiences," said an employee at KnowBe4 surveyed by Most Loved Workplace. "Our culture heavily focuses on creating a welcoming and inclusive environment for all. For example, we offer employee resource groups to all of our employees. Our ERGs are designed to give employees a place to come together with others in the company who may have shared experiences. Additionally, all employees are encouraged to bring their ideas forth to leadership with our "no-door policy". We even have a suggestion box where all employees can submit their ideas to make KnowBe4 even better!"
2023 marks the second consecutive year KnowBe4 has been recognized and certified as a Most Loved Workplace®. KnowBe4 was also recognized as a 2022 Top 100 Most Loved Workplace in America.
To view KnowBe4's certification page visit, https://mostlovedworkplace.com/companies/knowbe4/.
About KnowBe4
KnowBe4, the provider of the world's largest security awareness training and simulated phishing platform, is used by more than 60,000 organizations around the globe. Founded by IT and data security specialist Stu Sjouwerman, KnowBe4 helps organizations address the human element of security by raising awareness about ransomware, CEO fraud and other social engineering tactics through a new-school approach to awareness training on security. Kevin Mitnick, an internationally recognized cybersecurity specialist and KnowBe4's Chief Hacking Officer, helped design the KnowBe4 training based on his well-documented social engineering tactics. Tens of thousands of organizations rely on KnowBe4 to mobilize their end users as their last line of defense.