Channel partners honoured as first award recipients from the Asia-Pacific region
KnowBe4, the provider of the world's largest security awareness training and simulated phishing platform, announced the inaugural winners from the Asia-Pacific region for its Partner Programme Awards.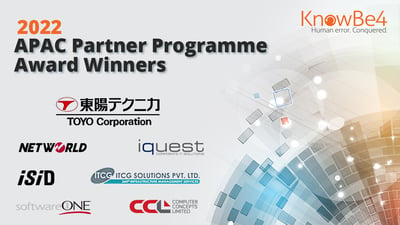 For this yearly awards programme, KnowBe4's channel partners are recognised for their tremendous performance across sales, marketing, and other areas of partner excellence. In line with increased investment in the market, this is the first time KnowBe4 expands the programme to include its Asia-Pacific channel community. KnowBe4's partners are helping organisations globally better understand the human-centric category in cybersecurity.
"We are very excited to recognise the first-ever Partner Programme Award winners in the APAC region," said Tony Jennings, EVP international & global channel sales. "The threat landscape is escalating here, with studies showing the region is particularly vulnerable to cyber attacks. Our partners recognise the need to focus on strong security culture as critical means of defence. We thank these partners for their dedication, and we look forward to continued success together."
"Our rigorous data-driven selection criteria are the foundation of our awards programme," said Kirsten Esposito, VP global partner programme office and 2022 Women of the Channel honouree, "We named these regional winners based solely on the data and the joint value we bring to the market. These incredible partners complete our 2022 global programme awards class."
The winners of the KnowBe4 2022 APAC Partner Programme Awards include:
For more information on KnowBe4, visit www.knowbe4.com.
About KnowBe4
KnowBe4, the provider of the world's largest security awareness training and simulated phishing platform, is used by more than 54,000 organisations around the globe. Founded by IT and data security specialist, Stu Sjouwerman, KnowBe4 helps organisations address the human element of security by raising awareness about ransomware, CEO fraud, and other social engineering tactics through a new-school approach to awareness training on security. Kevin Mitnick, an internationally recognised cybersecurity specialist and KnowBe4's Chief Hacking Officer, helped design the KnowBe4 training based on his well-documented social engineering tactics. Tens of thousands of organisations rely on KnowBe4 to mobilise their end users as their last line of defence.