KnowBe4's new Email Exposure Check Pro tool identifies at-risk users within organizations
KnowBe4, the provider of the world's largest security awareness training and simulated phishing platform, today announced a new partnership with SpyCloud to enhance its ability to check for exposed emails on the internet.
More than 23 million exposed corporate credentials tied to Fortune 1,000 employees are available for sale on the criminal underground, according to SpyCloud research. That's why it's crucial to have a verification mechanism in place to ensure corporate emails are protected.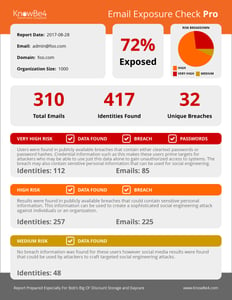 The partnership with SpyCloud brings a new and improved version to one of KnowBe4's complimentary tools. The Email Exposure Check Pro (EEC Pro) checks public documents, files and social media for email addresses that have been exposed within organizations. Users' email addresses will be compared against SpyClould's massive database to see if any of their credentials or other personal information were exposed in a data breach.
"Breaches happen every day and it's our job to equip cybersecurity professionals with the best tools to help them fight the bad guys," said Stu Sjouwerman, CEO, KnowBe4. "Partnering with an organization like SpyCloud gives KnowBe4 the ability to expand our offerings to the cybersecurity community. They have the largest collection of recovered breach data in the world with nearly 80 billion records, which will help KnowBe4's customers and users of the EEC Pro tool stay ahead of account takeover."
"Most people don't know when their data has been compromised, making the average internet user and their employer targets for account takeovers and follow-on attacks," said Chris LaConte, chief strategy officer at SpyCloud. "Through this partnership, SpyCloud's data will help KnowBe4 customers proactively remediate exposed passwords as soon as they start circulating in cybercriminal circles, reducing the risk of successful account takeover attacks."
For more information on the new Email Exposure Check Pro, visit https://www.knowbe4.com/email-exposure-check/.
About KnowBe4
KnowBe4, the provider of the world's largest security awareness training and simulated phishing platform, is used by more than 30,000 organizations around the globe. Founded by IT and data security specialist Stu Sjouwerman, KnowBe4 helps organizations address the human element of security by raising awareness about ransomware, CEO fraud and other social engineering tactics through a new-school approach to awareness training on security. Kevin Mitnick, an internationally recognized cybersecurity specialist and KnowBe4's Chief Hacking Officer, helped design the KnowBe4 training based on his well-documented social engineering tactics. Tens of thousands of organizations rely on KnowBe4 to mobilize their end users as the last line of defense.
Number 161 on the 2019 Inc. 500 list and #2 in Cybersecurity Ventures Cybersecurity 500. KnowBe4 is headquartered in Tampa Bay, Florida with European offices in England, the Netherlands, Germany and offices in Brazil, Australia, Japan, South Africa and Singapore.
About SpyCloud
Using Human Intelligence, SpyCloud goes deeper into the web than any other cybersecurity company, extracting data that's otherwise undetectable. Our database of exposed credentials and PII is not only the largest in the industry — it offers the most current, relevant, and truly actionable data to protect users from account takeover. In fact, we're the leader in account takeover prevention, protecting billions of consumer and employee accounts either directly or through product integrations. Our award-winning solutions proactively defeat fraud attempts and disrupt the criminals' ability to profit from stolen information. Check your exposure and try SpyCloud for free at spycloud.com.