Ransomware damage costs up 15X in two years, expected to worsen; Ransomware is growing at a yearly rate of 350 percent
A new report issued by Cybersecurity Ventures revealed ransomware damages have soared 15X within the last two years and are expected to worsen. The report, sponsored by KnowBe4, provider of the most popular platform for security awareness training and simulated phishing, predicts such attacks on healthcare alone will quadruple by 2020. This surpasses the FBI estimates released to CNN last month of $1 billion, which were forecast weeks before the WannaCry ransomware attack made global headlines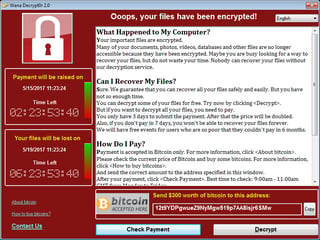 According to Steve Morgan of Cybersecurity Ventures, "Cybersecurity industry experts and law enforcement officials have been advising organizations not to pay ransoms. While the percentage of ransom victims who pay Bitcoin to hackers in hopes of reclaiming their data appears to be on the decline, the total damage costs in connection to ransomware attacks is skyrocketing. We believe ransom payouts are the least of all damage cost contributors."
Stu Sjouwerman, CEO of KnowBe4, stated, "The estimated damage caused by WannaCry alone in the initial four days could exceed $1 billion. It is going to change the landscape of how these types of attacks happen. There is no end in sight, which is why we advocate for a defense-in-depth security strategy that includes educating users as a last line of defense—a security measure that could have prevented WannaCry"
The FBI's earlier estimates of ransomware as a billion-dollar business did not include related costs from these extortions. Costs noted by the ransomware report include damage and destruction (or loss) of data, downtime, lost productivity, post-attack disruption to the normal course of business, forensic investigation, restoration and deletion of hostage data and systems, reputational harm, and employee training in direct response to the ransomware attacks To illustrate damages beyond the cost of a ransom, Renault-Nissan shut down operations for several days and the UK's National Health System experienced costly interruption of services.
For a copy of the report, visit: http://cybersecurityventures.com/ransomware-damage-report-2017-5-billion/
To find out how vulnerable your network is against ransomware attacks, download a free Ransomware Simulator tool from KnowBe4
About KnowBe4
KnowBe4, the provider of the world's most popular integrated new school security awareness training and simulated phishing platform, is used by more than 9,500 organizations worldwide. Founded by data and IT security expert Stu Sjouwerman, KnowBe4 helps organizations address the human element of security by raising awareness of ransomware, CEO Fraud and other social engineering tactics through a new school approach to security awareness training. Kevin Mitnick, internationally recognized computer security expert and KnowBe4's Chief Hacking Officer, helped design KnowBe4's trainings based on his well-documented social engineering tactics. Thousands of organizations trust KnowBe4 to mobilize their end-users as a first line of corporate IT defense.
Number 139 on the 2016 Inc 500 list, #50 on 2016 Deloitte's Technology Fast 500, KnowBe4 is based in Tampa Bay, Florida. For more information, visit www.knowbe4.com and follow Stu on Twitter at @StuAllard.
About Cybersecurity Ventures
Cybersecurity Ventures is a research and market intelligence firm focused on the Cybersecurity industry. The firm's Cybersecurity Market Report forecasts worldwide cybersecurity spending will eclipse $1 trillion for the 5 year period from 2017 to 2021. Cybersecurity Ventures is regularly featured, quoted, and cited as a trusted source by major newspapers and the leading business, financial, technology, and cybersecurity news media.