Drata, a continuous security and compliance automation platform, today announced it has been selected by KnowBe4 as the company's exclusive GRC partner. KnowBe4 is transitioning its KnowBe4 Compliance Manager (KCM) offering to a support-only model and endorses Drata as the preferred offering for migration.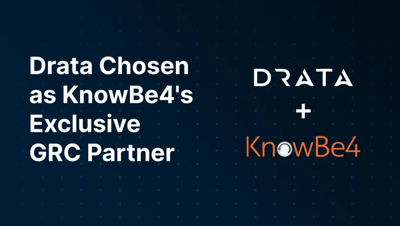 KnowBe4 is a leading provider of security awareness training and simulated phishing to help more than 60,000 organizations across the globe manage the ongoing problem of social engineering. KnowBe4 and Drata have an existing integration along with 300 joint customers, enabling customers to save hundreds of hours every year by automatically collecting evidence of personnel's security awareness training. As the company ends support for KCM, built with compliance, risk, policy, and vendor risk management modules, it has recommended its customers to migrate from KCM to Drata to continuously maintain and grow their GRC programs. KnowBe4 chose Drata after an exhaustive assessment of vendors in the market, based on the company's expansive product offerings and steadfast customer-centric values.
"Following a strategic review of KnowBe4's long-term product roadmap, we decided to move KCM GRC to a support-only model," said Stu Sjouwerman, CEO of KnowBe4. "We then completed a thorough review of alternate options to best meet the needs of our KCM customers. Drata was top of mind as an option because they provide a best-in-class compliance offering through their automation platform, an outstanding customer experience and integrate with other KnowBe4 products. For these reasons, we ultimately decided to choose their offering for our customers."
"Being selected as KnowBe4's exclusive GRC partner reaffirms Drata's leadership in the market and our unmatched commitment to delivering exceptional customer experience," said Adam Markowitz, Drata Co-Founder and CEO. "Whether it's a company that is brand new to compliance or migrating from other platforms, our risk and compliance automation offerings can be easily configured to fit all business needs."
As the fastest growing compliance automation platform, Drata features over 16 compliance frameworks and over 80 integrations with essential applications and systems modernizing the GRC experience. With its unmatched automation-led approach, Drata's thousands of customers can create tailored risk and compliance programs and leverage key products such as Trust Center, Risk Management, and Open API for full visibility into their security compliance posture.
For more information on Drata and KnowBe4's partnership, please visit: Trusted, the Drata blog.
About Drata
Drata is the world's most advanced security and compliance automation platform with the mission to make compliance effortless and accessible. With Drata, thousands of companies streamline over 16 compliance frameworks—such as SOC 2, ISO 27001, GDPR, and more—through continuous, automated control monitoring and evidence collection, resulting in a strong security posture, lower costs, and less time spent preparing for annual audits. The company is backed by ICONIQ Growth, GGV Capital, Alkeon Capital, Salesforce Ventures, Cowboy Ventures, S Ventures, Leaders Fund, Okta Ventures, SVCI, SV Angel, Intuit Ventures, and many key industry leaders. For more information, visit drata.com.
About KnowBe4
KnowBe4, the provider of the world's largest security awareness training and simulated phishing platform, is used by more than 60,000 organizations around the globe. Founded by IT and data security specialist Stu Sjouwerman, KnowBe4 helps organizations address the human element of security by raising awareness about ransomware, CEO fraud and other social engineering tactics through a new-school approach to awareness training on security. Kevin Mitnick, who was an internationally recognized cybersecurity specialist and KnowBe4's Chief Hacking Officer, helped design the KnowBe4 training based on his well-documented social engineering tactics. Tens of thousands of organizations rely on KnowBe4 to mobilize their end users as their last line of defense.