KnowBe4 ranks number three in the midsize organization category
KnowBe4, the provider of the world's largest security awareness training and simulated phishing platform, today announced it has been ranked number three in the midsize organization category on Foundry's Computerworld 2023 Best Places to Work in IT. This award recognizes the top organizations that challenge their IT staff while providing great benefits and compensation. Organizations will be included in coverage on Computerworld.com along with results from the 2023 Best Places to Work in IT survey.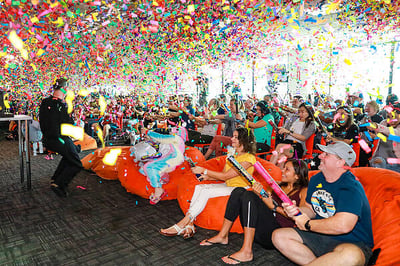 "At KnowBe4, we pride ourselves on creating and maintaining an exceptional workplace," said Ani Banerjee, CHRO, KnowBe4. "We aim to provide an exciting and fun place to work for all of our employees around the world by cultivating a welcoming, collaborative and transparent work environment. Our extraordinary employees are provided with a variety of industry-leading benefits and perks along with many career development and training opportunities to support and encourage growth. KnowBe4 is honored and elated to once again be recognized on this list as a best place to work in IT."
"Adapting to a 'new normal' has put additional demands on IT organizations at companies of all sizes. This year's winning companies have stepped up with increased IT staffing and a variety of innovative professional development opportunities. The result of these efforts is that not only are IT staff engaged and productive, but the entire business benefits from IT's ability to support evolving workplace models and changing business and customer needs," said Rob O'Regan, global director, content strategy, Foundry. "Importantly, this year's award winners are laser-focused on diversity initiatives to expand the IT talent pool and promote workplace diversity and inclusion."
For more information on KnowBe4 careers, visit https://www.knowbe4.com/careers.
About KnowBe4
KnowBe4, the provider of the world's largest security awareness training and simulated phishing platform, is used by more than 54,000 organizations around the globe. Founded by IT and data security specialist Stu Sjouwerman, KnowBe4 helps organizations address the human element of security by raising awareness about ransomware, CEO fraud and other social engineering tactics through a new-school approach to awareness training on security. Kevin Mitnick, an internationally recognized cybersecurity specialist and KnowBe4's Chief Hacking Officer, helped design the KnowBe4 training based on his well-documented social engineering tactics. Tens of thousands of organizations rely on KnowBe4 to mobilize their end users as their last line of defense.
About the Best Places to Work in IT
The Best Places to Work in IT list is an annual ranking of the top work environments for technology professionals by Foundry's Computerworld. The list is compiled based on a comprehensive questionnaire regarding company offerings in categories such as benefits, career development, DEI, future of work, training and retention. In addition, the rankings are reviewed and vetted by a panel of industry experts.
About Computerworld
Computerworld is the leading technology media brand empowering enterprise users and their managers, helping them create business advantage by skillfully exploiting today's abundantly powerful web, mobile, and desktop applications. Computerworld also offers guidance to IT managers tasked with optimizing client systems—and helps businesses revolutionize the customer and employee experience with new collaboration platforms. Computerworld's award-winning website (www.computerworld.com (http://www.computerworld.com)), strategic marketing solutions and research forms the hub of the world's largest global IT media network and provides opportunities for IT vendors to engage this audience. Computerworld is published by Foundry. Company information is available at www.foundryco.com (http://www.foundryco.com).
Follow Computerworld on Twitter: @Computerworld #BestPlacesIT
Follow Computerworld on LinkedIn
Follow Computerworld on Facebook