Did you know

48% of cybersecurity breaches

are NOT preventable by strong multi-factor authentication?
You know the benefits of how multi-factor authentication (MFA) can decrease your cybersecurity risk, and certainly is a much stronger defense compared to using traditional passwords alone.
However, did you know that all MFA mechanisms can be hacked, and in some cases it's as simple as sending a phishing email? That's why it's important to know the exact security risks your MFA solution has and how your users' accounts may be compromised.
Find out how to defend against MFA hacks!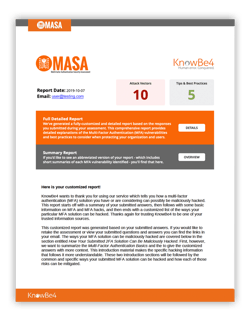 KnowBe4's new Multi-Factor Authentication Security Assessment (MASA) is a complimentary IT security tool that helps you gauge your organization's MFA security readiness and identifies your specific risks so you can better defend against MFA hacks.

MASA leverages direct expertise from one of the market's leading security evangelists and InfoSec consultants; Roger Grimes, KnowBe4's data-driven defense strategist. With 30+ years in computer security and MFA risk assessments, it's like having your very own expert consultant!
Here's how MASA works:
You will receive a custom link to take your assessment
Answer a series of technology questions relevant to your MFA solution
Get an instant high-level snapshot of potential risks with your MFA<
Receive your in-depth report packed with actionable insight and detailed analysis on specific MFA attacks and tips for your top defenses
Find out how hackable your MFA is now so you can take action to better protect your users and organization!!