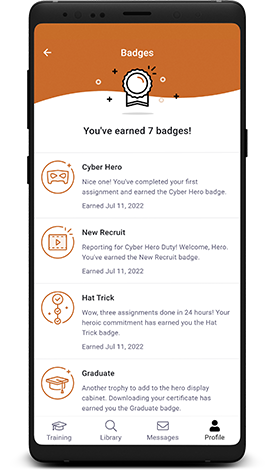 Browse the Training Library
Your users get fingertip access to content you make available from your ModStore library where they can browse and enroll in AI-recommended training via the Optional Training feature, which is strongly recommended and super easy to do.
Additionally, users can also complete your organization's own custom corporate videos and SCORM-compliant training modules that you can upload in your KnowBe4 account, making it your very own Learning Management System (LMS).
Higher Engagement and Completion Rates
With 24/7 access to assigned training modules, your users can complete security awareness and compliance training and quizzes when it's convenient for them. This provides flexibility and low-pressure opportunities to consume content whenever and wherever they choose, resulting in improved user engagement and higher completion rates. The KnowBe4 Learner App supports push notifications for your custom announcements, updates on assigned training, as well as KnowBe4 newsletters like the Scam of the Week and Security Hints and Tips.
Training Content Optimized for Mobile
It's easy to create training campaigns using content from your KnowBe4 ModStore that is already designed with mobile in mind. Depending on your subscription level, the ModStore includes over 100 Mobile-First Modules that are optimized for mobile consumption. Additionally, for your custom SCORM-compliant training, the KnowBe4 LMS includes a content compatibility check from desktop to mobile to help you choose what courses are best suited for mobile learning.