KnowBe4 Ranked as the #1 Security Awareness Training Platform for the 14th Consecutive Quarter
The latest G2 Grid Report compares Security Awareness Training (SAT) vendors based on user reviews, customer satisfaction, popularity and market presence. Based on over 986 G2 customer reviews, KnowBe4 is the top ranked security awareness training platform with 99% of users rating 4 or 5 stars. The KnowBe4 platform also received a 95% customer recommendation rating, 92% ease of use and 95% quality of support score. KnowBe4 has the highest G2 score and largest market presence among all vendors rated in the report.
KnowBe4 enables more than 50,000 organizations worldwide and their users to make smarter security decisions — every day. Using world-class training and simulated phishing, we help customers to improve their security posture, mitigate risk, and manage the ongoing problem of social engineering.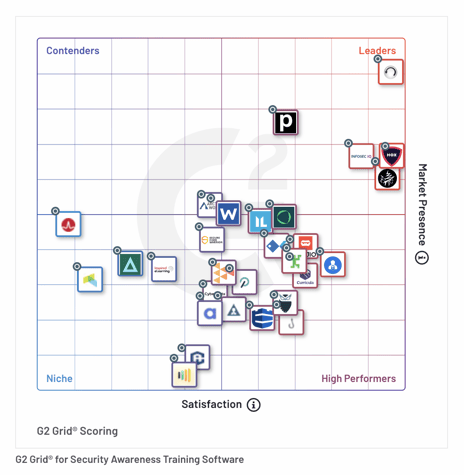 In this comprehensive G2 Grid Report on the SAT market, you'll get:
Stack rankings of SAT vendors based on validated reviews from customers
Detailed profiles and customer ratings of the vendors in the category on G2
Customer scores based on ease of use, likelihood to recommend, support and more
Download Your Complimentary Copy of the Report Now!
---