The FBI's Internet Crime Complaint Center Ransomware is a type of Trojan ransomware similar to Urausy police ransomware. This particular Trojan locks victims out of their computers and prevents them from accessing their files. While it does so, it shows victims a notice stating that the computer they are using was found to be viewing and downloading child or animal pornography or illegally distributing copyrighted materials. The notice asks victims to pay $500 via MoneyPak or Ukash.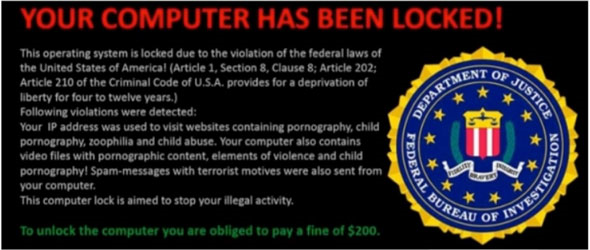 The notice itself looks startlingly legitimate, with a banner across the top that displays several emblems, including the emblem of the FBI. A small portion of the notice informs the victim that he or she is being recorded using audio and visual devices.
Victims of Internet Crime Complaint Center ransomware attacks are advised to know that the FBI does not monitor individual online activities, and that they do not lock down computers in such a manner. Victims must not send any money to the criminals behind the ransomware.
---
Is Your Network Vulnerable To Ransomware Attacks?
Find out now with KnowBe4's Ransomware Simulator "RanSim", get your results in minutes.
---
---
« Back To Ransomware Knowledgebase