While compliance training is necessary, it doesn't have to be "Ugh! Here we go again, let's just get through this!"
Up to now, compliance training has a reputation for being challenging for organizations to offer, difficult to do right, and hard to move beyond a tick-box approach. Old-school compliance training is generally very expensive to deliver because of the high per-user price tag.
Executives have struggled with compliance training issues for years
Senior Management, Risk, Compliance, and HR executives have been struggling with compliance training for years. Difficult topics are not sufficiently addressed causing major gaps between your current and ideal states. Linking compliance training to specific outcomes has been hard, and many executives even disagree that compliance training has a positive effect on their culture.
One of the most critical factors of meeting compliance requirements is your users' understanding of those requirements and actually applying them on the job.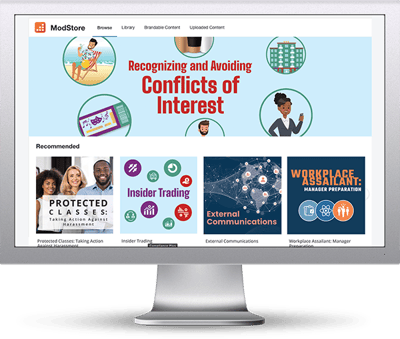 Time for new-school compliance training: Compliance Plus
You told us you were ready for New-school Compliance Training, so we decided to bring you a whole new way to do compliance training… the KnowBe4 way: up-to-date, engaging, relevant, short, and customizable!
Compliance Plus training is interactive, relevant, and engaging with real-life simulated scenarios to help teach your users how to respond in a challenging situation. The content addresses difficult and sometimes chaotic topics like sexual harassment, diversity and inclusion, discrimination, and business ethics. Compliance Plus includes various types of media formats and reinforcement materials to support your compliance training program.
With Compliance Plus you can finally manage the ongoing problem of employee non-compliance.
---
Compliance Plus Training Topics Include: