When it's time to complete a compliance audit, are you thinking,

"Ugh, is it that time again?"
And, as continuing regulatory change remains one of the biggest challenges for compliance teams, having enough time to get your audits done is a continuous problem.
If you're trying to wrap your head around the new Cybersecurity Maturity Model Certification (CMMC) framework, you likely have a lot of questions. You want answers and need guidance on how to best meet the requirements to get your organization ready for an audit - fast.

Find out your organization's audit readiness now!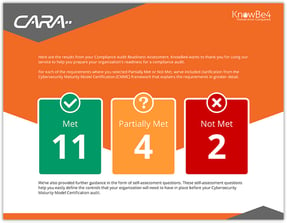 KnowBe4's new Compliance Audit Readiness Assessment (CARA) is a complimentary web-based tool that helps you take the first step towards assessing your organization's readiness for meeting compliance.

CARA guides you through the CMMC Maturity Level 1 requirements for Basic Cyber Hygiene and asks you to rate your readiness for each requirement. CARA then provides an analysis of your results to help you define the controls you need in place before your compliance audit.
Here's how CARA works:
Find out your organization's readiness for a CMMC compliance audit now!