Situation
Cybercrime has a new and very profitable racket: cyberheists. Their preferred target is Small and Medium Enterprise and there are hundreds of victims with either all their files encrypted and held hostage by ransomware, exposed customer databases, stolen intellectual property or worse, emptied corporate bank accounts.
Eastern European cyber mafias use specialized malware for their crimes which does not get detected by antivirus. Small and medium organizations are the favorite target for organized cybercrime as they often lack the sophistication and knowledge of the Fortune 1000 to prevent cyber attacks. Something can be done about it though!
Case Study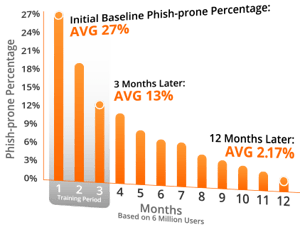 After a year of helping our customers train their employees against social engineering, we decided to go back, look at the actual numbers over those 12 months, and show you a case study that clearly shows the sequence of:
The initial Phishing Security Test (PST) that shows the baseline Phish-prone percentage,
Stepping all employees through our Internet Security Awareness Training, and
Follow up with regular PSTs that continue to keep them on their toes. All graphs start out high on the left (baseline), and drop dramatically over time.
A recent case study was done, looking at the experience of a Financial Institution with 300 employees who did not have sufficient user education to prevent risky behavior on the Internet.
You can download this case study in PDF format.