When your users
save passwords

in the browser

,

it makes it easy for bad actors to hack into your network.

Verizon's recent Data Breach Report shows that attackers are increasingly successful using a combo of phishing and password dumper malware to steal your users' credentials.

Once hackers gain access, they can steal usernames and passwords to any accounts saved in browsers. With 50% of employees using the same password for work and personal accounts, this makes the risk of credential theft and account takeovers even greater!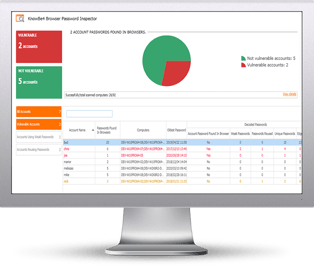 KnowBe4's new Browser Password Inspector (BPI) is a complimentary IT security tool that helps you understand your organization's risk associated with weak, reused, and old passwords saved in Chrome, Firefox, and Edge browsers.
BPI makes it easy to identify users with browser-saved passwords and checks the passwords found in the browser against your Active Directory so you can take action immediately!
Here's how the Browser Password Inspector works:
Inspects available Windows user accounts on your network for browser-saved passwords
Checks against weak passwords and password reuse currently active among users in your Active Directory
Reports on the accounts affected and does not show/report on actual passwords
Simply download the install and run it
Results in a few minutes!
The results might make you feel like the first drop on a roller coaster!
---
Requirements: Active Directory, Windows 10 or higher (32 or 64 bit) NOTE: The analysis is done on the workstation you install BPI on, no confidential data leaves your network, and actual passwords are never disclosed. BPI scans Windows machines only at this time.