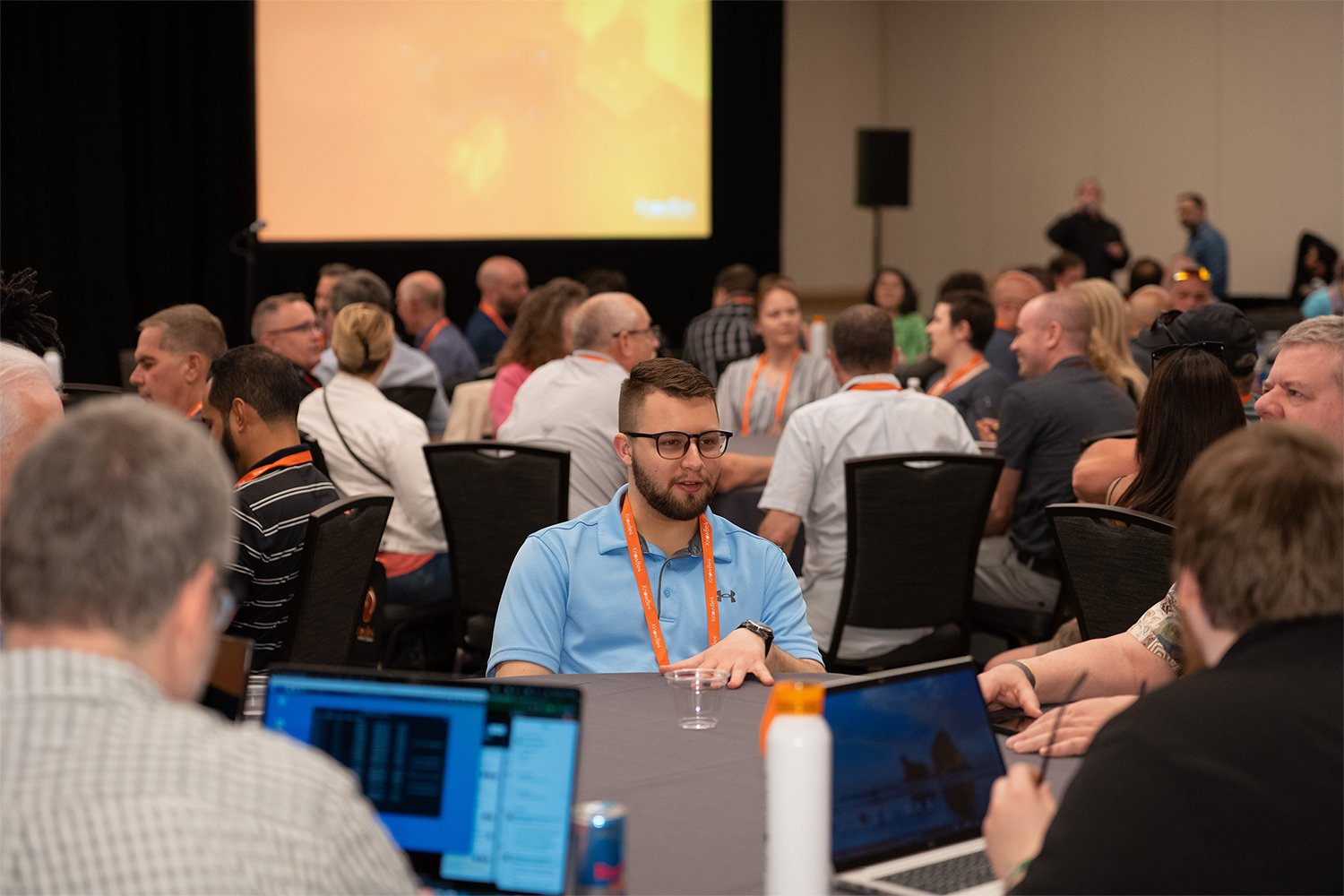 Atlanta Event
Join us in Atlanta for this FREE half-day event to foster collaboration and the exchange of ideas through interactive sessions and networking. Learn from cybersecurity experts, product and platform specialists and fellow KnowBe4 users!
We created this user group for current KnowBe4 platform users like you looking to sharpen your skills, gain industry insights and network and share ideas with like-minded peers in your area.
1:00pm - 1:45pm

Keynote - The 2022 Threat Landscape
Hear from a KnowBe4 evangelist on the latest and most significant attacks and what you can do to mitigate them.

1:45pm - 2:30pm

Platform Updates & Best Practices
Get the inside scoop on the latest KnowBe4 platform updates and what features our most successful customers are taking advantage of.

2:30pm - 2:45pm
2:45pm - 3:30pm

The Answer Is In The Room
Engage in an open discussion on the prior session with our panel of experts and your peers so you can get your SAT program humming.

3:30pm - 3:45pm
3:45pm - 4:30pm

Advanced Console Training
Do you have the basics down? Then let's up your game. Our platform guru will enlighten you on smart groups, advanced reporting, and other important features so you can reduce risk and maximize results.

4:30pm - 5:00pm

What Do I Do Next?
We'll wrap up with an important discussion on key takeaways from the day and gameplan what immediate steps you should take to improve your platform use.

5:00pm - 5:45pm

Reception
Enjoy networking with speakers and fellow attendees over drinks and hors d'oeuvres.
*Agenda subject to change
Continuing Education Credits
As part of this event, KnowBe4 is pleased to offer a certificate of attendance to assist attendees in receiving continued education credits ("CPEs") for sessions they attended, since many KnowBe4 sessions are educational in nature within the cybersecurity and privacy fields.
The certificate will include the name of the event. It is up to each attendee to accurately report the sessions they attended and the credit hours they are submitting to their professional certification organization(s). KnowBe4 is not responsible for reporting details on what sessions individuals attended, for how long, or for any direct communications with professional certification organizations.
Most professional certification organizations such as (ISC)2, SANS Institute, and ISACA accept one (1) credit for a one (1) hour session/webinar. Quarterly hour increments may also be allowed. It is the responsibility of each attendee to know the relevant professional certification organization's rules and regulations covering CPE credits for their individual certifications, such as the: CISSP, CSSLP, CCSP, CAP, HCISPP, SSCP, CISSP-ISSAP, ISSEP, ISSMP, PMP, and IAPP. KnowBe4 recommends attendees retain their individual certificates as additional documentation in the event of an audit from the professional certifying organization.
KnowBe4 product-specific sessions will typically not qualify for CPE credits.
Frequently Asked Questions
Our Atlanta user group is from 1:00pm - 5:45pm on November 10, 2022.
Registration is free for all KnowBe4 customers!
Our user groups are casual meetings and we want you to wear what makes you most comfortable. For the comfort of other attendees, please be considerate and refrain from any intentionally offensive clothing.
The safety of our attendees and our employees is our top priority. We will be following the state and local guidelines regarding COVID-19. Please also visit the Westin Buckhead Atlanta COVID-19 precautions page for more information.