Defend against ransomware and phishing in your organization with these Free Resources.
SysAdmin Day is here! To show our appreciation, we've put together a free resource kit. Since this holiday now falls in Ransomware Awareness Month, this year's kit resources are focused on preventing ransomware and phishing in your organization. Request your kit now to learn more about current threats, and our best advice on what you can do about it in your organization.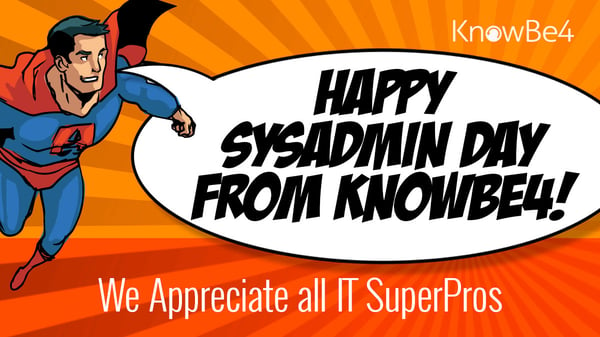 Here is what you'll get:
Access to two free webinars: The Ransomware Hostage Rescue Checklist: Your Step-by-Step Guide to Preventing and Surviving a Ransomware Attack and Ransomware 3.0: We Thought It Was Bad and Then It Got Even Worse
Featured whitepaper: Building a Security Awareness Program to Help Defend Against Cyber Extortion and Ransomware
A fun SysAdmin Day Appreciation Video from KnowBe4 Security Awareness Advocates Erich Kron and Javvad Malik
Tip Sheet: How To Run a Successful Security Awareness Program
Infographics and checklists with information about the current state of ransomware and phishing threats


Get Your Free SysAdmin Day Resources Now!