What is the CodeStart Pathway?
Start your professional software engineering career at an award-winning workplace! CodeStart is a 6-month pathway designed for individuals from underrepresented communities who are looking to start or restart their careers and maximize their future success. This is a fully paid, fully remote position on our software QA engineering team, and those who successfully complete this pathway will be offered a full-time position with KnowBe4. This pathway requires no experience in the tech industry but does require a strong desire for self-improvement.
Pathway Dates
Applications are closed for 2022. Sign up below to be notified about future pathway dates and when applications open again.

Build Your Professional Portfolio
Showcase your personal and professional development.
Get professional headshots.
Create a strong resume full of new skills.
Further Your Education
Receive comprehensive training and onboarding.
Earn industry certifications after pathway completion.
Receive tuition reimbursement upon pathway completion.
Learn From the Best
Access KnowBe4's amazing network of performance coaches.
Work with our Career Development team to plan your future.
Join "Ask Me Anything" sessions with top executives.
Have Fun
Join a dynamic team that understands how to make work exciting.
Participate in frequent team-building events.
Get all the perks of being a part of KnowBe4!
Common Career Journeys
This chart shows just a few of the common career journeys that KnowBe4's Software QA Engineers follow. Through our education, certification, and career development programs, the potential for growth is limitless!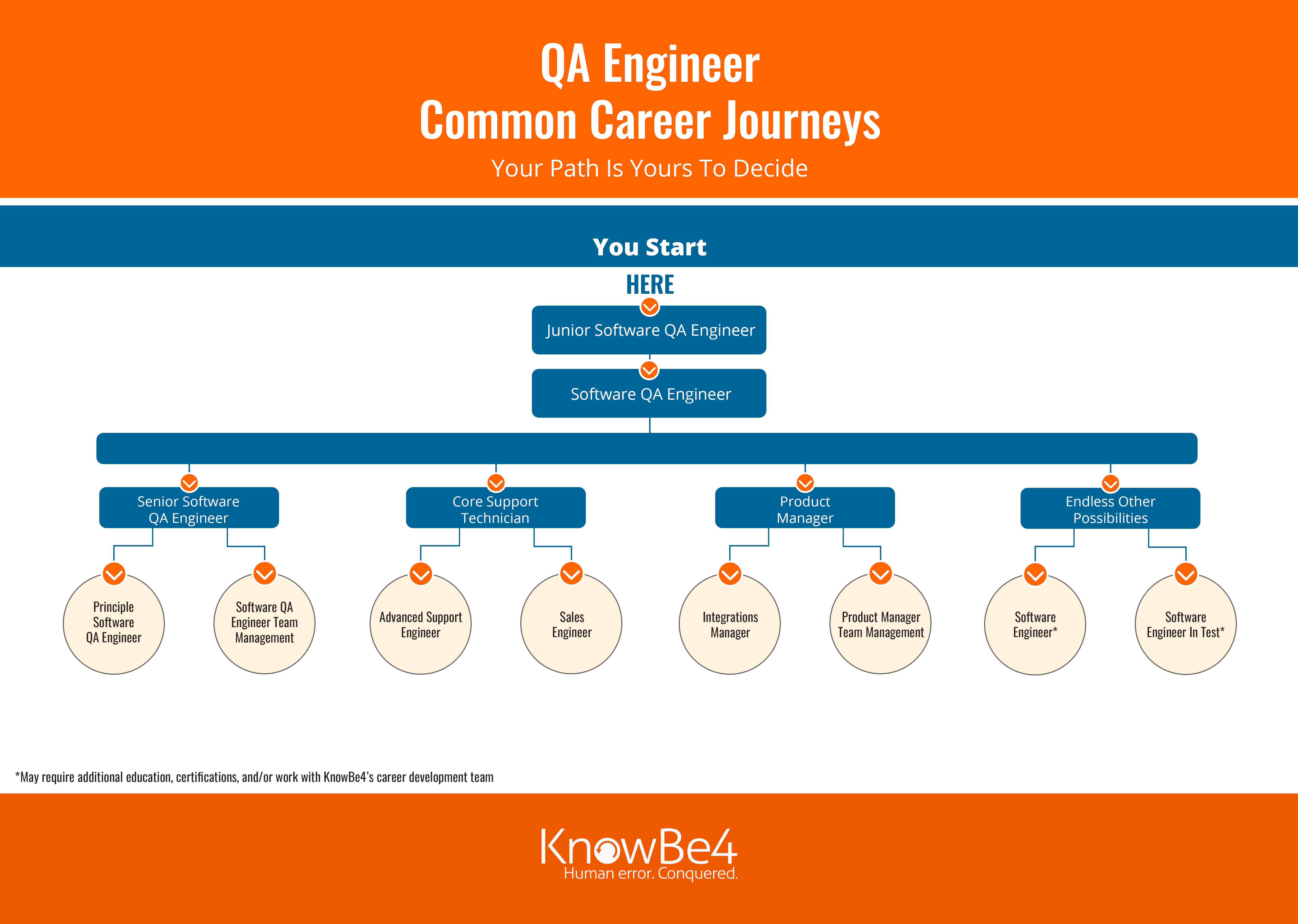 The CodeStart Pathway is an opportunity to experience firsthand how the engineering teams build and test software from the ground up.
As a Software QA Engineer, you will be responsible for testing new and exciting products for KnowBe4's customers, alongside other engineers in a fast-paced environment.
Requirements
Must be 18 years or older at the start of the pathway

Looking to start or restart your career
Minimal to no experience in the tech industry
Driven to learn new things

Basic understanding of technologies such as email, instant messaging, and the like
Skills Required
Strong verbal and written communication
Ability to work as part of a team
Interest in technology
Natural analytical mindset
Excellent time management and organization skills
Essential Responsibilities
Learn about the Software Development Life Cycle (SDLC)
Learn about Software Testing including how to write clear and concise test cases, test plans, and bugs
Learn about types of testing including how to perform Exploratory, Functional and Regression testing
Learn how to analyze test results to ensure correct functionality and interact with the team for resolution of bugs
Upon successful completion of the CodeStart Pathway, you may apply for an open KnowBe4 position in accordance with company policy. As your employment with KnowBe4 is "at will," KnowBe4 specifically reserves the right to terminate the employment relationship at any point during the CodeStart Pathway, or following its completion, with or without cause or advance notice, and without the need to follow any progressive discipline contained in the employee handbook.
Sign up to be notified when our next application period opens.